The SNH050, with 50.00mm through bore size and compact 120mm outside diameter, uses SenRing's fiber brush technology which offers several advantages over conventional slip ring contacts including multiple points of contact per brush bundle, low contact force per fiber and low contact wear rates.
SNH050(Standard) Dimensions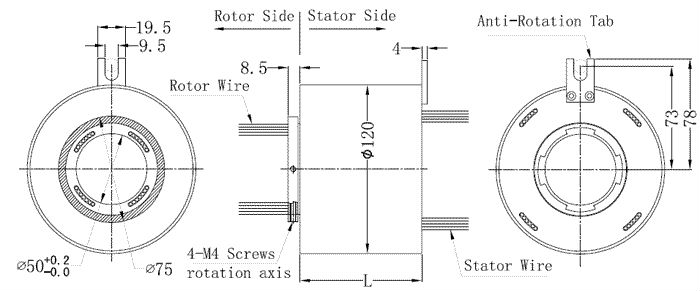 Download Drawings
SNH050 Specifications(Standard)
Contact Material

Precious metal brush,Silver plated rings

Current Rating

10A/per circuit

Number of Circuits

24

Operating Speed

300 rpm* continuous

Lead Wire

UL Teflon® Awg28,Awg22,Awg16,Awg10 (200 mm)

Voltage

600 VAC

Operating Temp.

-40°C to 80°C

Working Humidity

60%RH

Torque

Approx. ≤9.95 g·m (for reference )

Dielectric Strength

≥1000V@50Hz between each circuit

Insulation Resistance

1000MΩ@ 600VDC

Noise

Less than 50 mΩ @ 6 VDC, 50 mA, 5 rpm

Housing Material

Aluminum Alloy

Protection

IP51
*Please note that the operational life of the unit is dependent upon rotational speed, environment and temperature.
Options
Longer lead lengths available
Power and signal combinations
Rotor and stator lead exits
gold alloy brush,Gold plated rings
IP65,IP68 are optional
flange mounting is optional
Lead Wire Color Code
Circuit No.
1
2
3
4
5
5
Color
BLK
RED
YEL
GRN
BLU
WIT
Circuit No.
7
8
9
10
11
12
Color
BRN
ORG
GRAY
CLAR
WIT-RED
WIT-RED
12 circuits/per group, groups with tags
Type Application
| | |
| --- | --- |
| Industrial machinery | Filling equipment |
| Exhibit / display equipment | Medical equipment |
| machining centerse | rotary index tables |
| Mechanical arm | Surgery lamp |
| heavy equipment turrets or cable reels | Revolving door |
| Packaging machine | Coiling machine |
| test equipment | packaging machines |